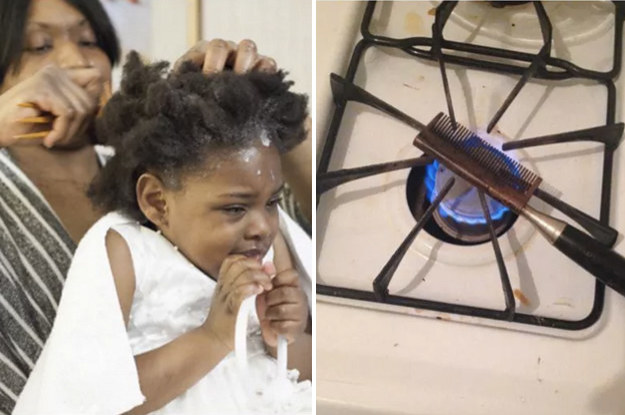 The salon I take Emma to doesn't do any kind of extensions, straightening, etc. There are no blow-outs and no combs are used, except to make lines. Emma's hair had come out of its style and was tied in three ponytails / pom-poms but because I'm so nervous about it knotting we decided to get it done yesterday.
She wanted a bob with braids, which meant we couldn't go to her regular spot and the other places we go were booked. I found a place online that had a price list of R300 for kids braids. Knowing I wasn't "taking have my own hair with" I figured in total it would be about R450 – R500 max.
Off we went. I showed the stylist a picture of what Emma had chosen and then she went to have her hair washed. I said to the shampooist that she mustn't use a comb or brush, that if she needs to detangle she must use her fingers and when I saw they use normal towels I asked her not to rub Emma's hair dry. I realized most of what I was saying was falling on deaf ears when she asked if we were doing a blow-out!
As an aside, Emma (and yes, she might milk it a little) has a super sensitive scalp, where even people's long (artificial) nails (that are filed into points, of which they all seem to have) scratch and hurt. 
Emma sat in the chair and again I explained that the stylist mustn't use a comb, mustn't twist too hard and to detangle, must use her fingers. She gave me "the" look but didn't say anything. As soon as she started, the tears from Emma did too. At our local salon there's a stylist that Emma loves and even her standing close by calms Emma down…needless to say she wasn't with us yesterday. 
The owner, or at least I think that's who he is, came over to see if Emma was ok and then he called me aside. He wanted to give me some advice. Which was I needed to leave the salon and come back later when it was done. Me being there was upsetting Emma and he knows from past experience that me leaving will calm her down.
My response was that this was the first time at this salon and no, I wouldn't be leaving my daughter alone. I explained (maybe a little too self-righteously) that me leaving her when she's distressed sends a very clear message that I'm not there for her when she needs me the most. It's telling her me, one of the few people she can trust with her life isn't there for her regardless of the situation. So, no I would speak to her and see if I could calm her down in my way. I whispered to Emma that if it was hurting she needed to tell the stylist exactly when, where and how, so she could do it gentler, softer, less pointy-nailish. And it seemed to work.
After three hours we were still there. Emma was getting fidgety. The stylist was getting annoyed and the owner felt it necessary to share some pearls of wisdom with me.
He pulled me aside again and explained:
Black hair is very different to caucasian hair (I'm not sure if he thinks I pulled a random child off the street and took her to a salon for the very first time.) Black hair needs to be treated (which we do) and it needs to be blown-out regularly (which we don't do). He also said that until, with my caucasian hair, I can prove him and his stylists wrong about the correct way to treat and manage black hair, I shouldn't be telling them what to do all the time.
Sadly, my first reaction is never one of direct anger. Instead, I immediately look at myself to see what and I've done wrong, where I could have done better and how I've gotten this hair thing so so wrong for Emma. I messaged Mark. I messaged my friend. I gave myself a figurative whipping.
When we finally finished I went to pay and was hit with a bill of three times the amount I thought it would be. They apparently used two packs of extensions, which is why it was so much more. Perhaps I was charged more because my daughter wasn't the easiest of clients. Perhaps with my caucasian hair, I have no idea what's involved with the hairstyle or with the pricing system.
Trust me I'm no hair guru but I do know that Emma's hair is very curly and that brushing or blow drying it would hurt like a mofo. I also know (and this is from my own common sense, reading and investigating as much as possible) that chemical relaxers are incredibly bad – not only for hair but for a person's health. Yet, I watched client after client yesterday have these chemicals applied to their hair (male and female, young and middle-aged). Our local spot, for example, will not use any product a client brings in unless it's prescribed and for medicinal purposes. They don't do blow-outs and I've seen customers been turned away because they're asking for something the salon, its owner, and staff, don't believe is good for their natural hair.
I would love your input on this experience. For one, would you have left the salon? How would you have reacted to the owner's speech on black hair and me not knowing what I'm doing?  What would you have done when you got the bill? Do you agree with the natural salon's outlook and their no-compromise approach to looking after natural hair?